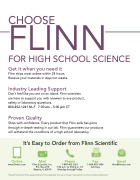 CHOOSE
FLINN
FOR HIGH SCHOOL SCIENCE
Get it when you need it
Flinn ships most orders within 24 hours. Receive your materials in days not weeks.
Industry Leading Support
Don't feel like you are on an island. Flinn scientists are here to support you with answers to any product, safety or laboratory questions.
800-452-1261 M–F 7:30 am – 5:00 pm CT
Proven Quality
Shop with confidence. Every product that Flinn sells has gone through in-depth testing in our lab. Flinn guarantees our products will withstand the conditions of a high school laboratory.
   It's Easy to Order from Flinn Scientific
       Online Mail
www.flinnsci.com Flinn Scientific, Inc. P.O. Box 219
Batavia, IL 60510
Phone
1-800-452-1261 7:30 a.m. to 5:00 p.m. CT Monday through Friday
Fax Email
1-866-452-1436 [email protected] (toll free)
*Advanced Placement and AP are registered trademarks of the College Board, which was not involved in the production of, and does not endorse, these products.