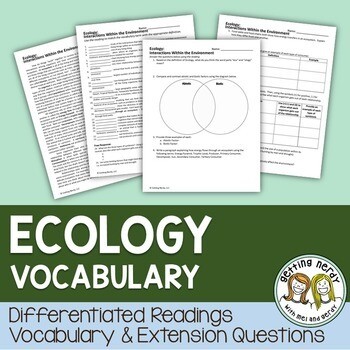 Science Literacy starts with accessible vocabulary. Our differentiated vocabulary lessons are perfect for teaching your students science terminology in a fun, engaging and differentiated way. Our readings are created using the same language for below and above level readers with differentiated questions. Students don't even need to know that they are receiving work that is different from their peers as they learn science terms.
WHAT'S INCLUDED IN THIS 1-2 LESSON:
• Differentiated readings covering terms related to food chains, food webs (predator, prey, carnivore, omnivore, herbivore), symbiotic relationships, animal populations, carrying capacity, and limiting factors
STUDENTS WILL:
• Read the assigned reading and answer the appropriate questions
TERMS OF USE (TOU):
All rights reserved by GETTING NERDY®️.
• This product is to be used by the original purchaser only
• Intended for classroom and personal use only
• Copying for more than one teacher, classroom, department, school, or school system is prohibited.
• This product may not be distributed or displayed digitally for public view
Failure to comply is a copyright infringement and a violation of the Digital Millennium Copyright Act (DMCA). Clipart and elements found in this PDF are copyrighted and cannot be extracted and used outside of this file without permission or license.
Ecology Vocabulary Reading © 2012 to present GETTING NERDY®️ All Rights Reserved