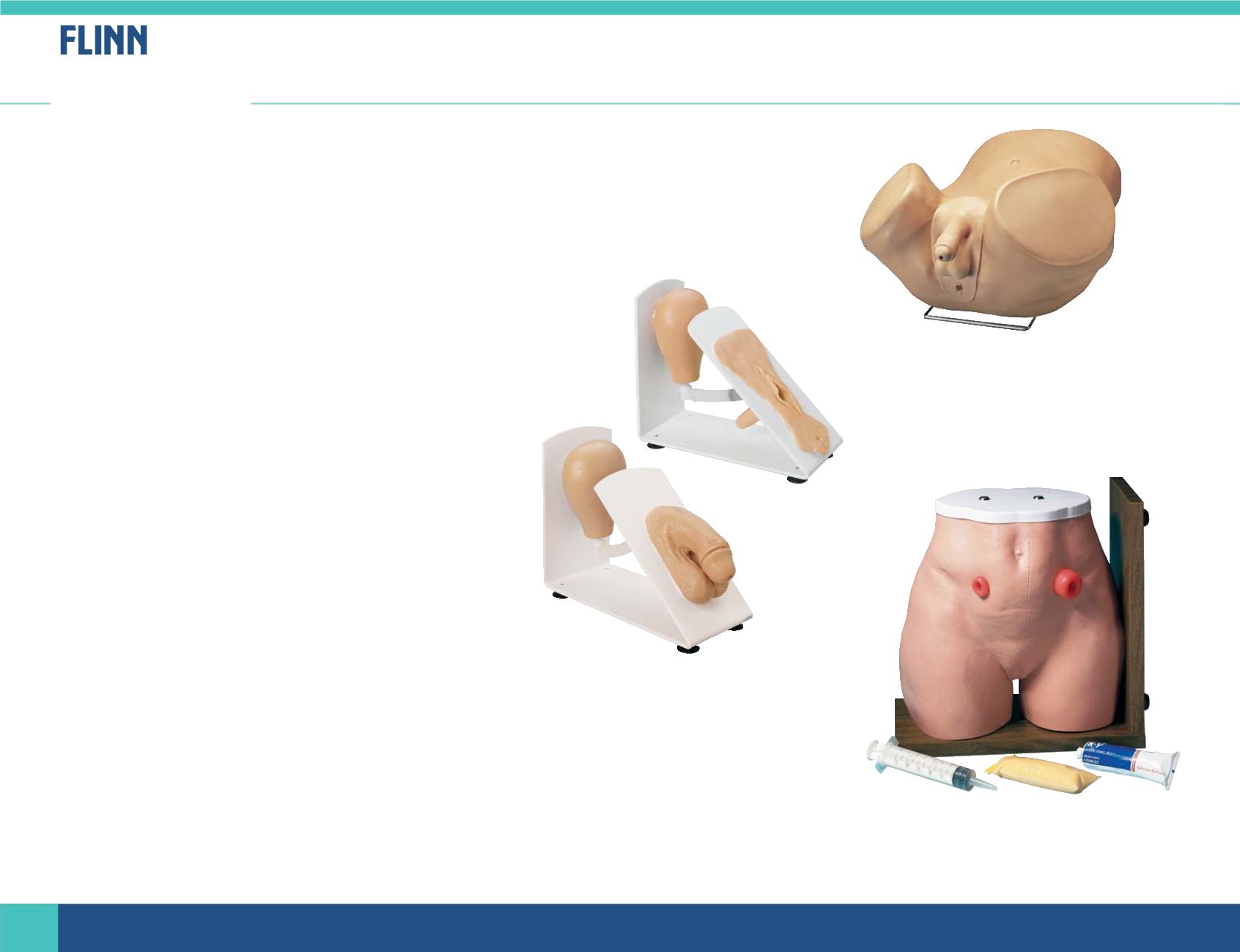 Your Safer Source for Science
Since 1977
SCIENTIFIC
10
NURSING & HEALTHCARE
I
FLINN SCIENTIFIC
Nursing and CTE
3B Scientific
®
Advanced Patient Care
Male Prostate Simulator
Simulator features four interchangeable modules depicting a
moderately enlarged benign prostate, a prostate with two discreet
nodules, a prostate with an easily palpable large mass and a pros-
tate with malignant invasive cancer. Prostates individually mounted
on clear plastic cards for easy placement and removal. Includes
instruction manual and soft carrying bag.
FB2226
I
$595.95
3B Scientific
®
Ostomy Care Simulator
Ostomy care simulator is a reproduction of an abdomen showing
the anatomy of both a colostomy and ileostomy to provide lifelike
functions and appearance. Dilation of the stomas can be demon-
strated and practiced, along with application of postoperative and
permanent ostomy bags. The colostomy can be irrigated. Drainage
and excretion at the ileostomy (water) and colostomy (simulated
stool) can be pumped by syringes. Delivered with simulated stool
and carrying case.
FB2221
I
$895.95
Ostomy Care Simulator
FB2221
3B Scientific
®
Male & Female Catheterization
Trainers Model Set
Practice male and female urinary catheterization with these anatom-
ically correct models. Training is enhanced by a material that has a
realistic feel and flexibility. Both models utilize a 16 FR catheter and
can be used to demonstrate balloon inflation procedures. A fluid
reservoir allows for urine output upon successful completion of the
insertion procedure. Instructors are able to teach sterile technique
and insertion and removal of catheter as well as practice preparing
the patient for the procedure.
FB2224
I
$677.95
Male & Female Catheterization
Trainers Model Set
FB2221
Advanced Patient Care Male
Prostate Simulator
FB2226