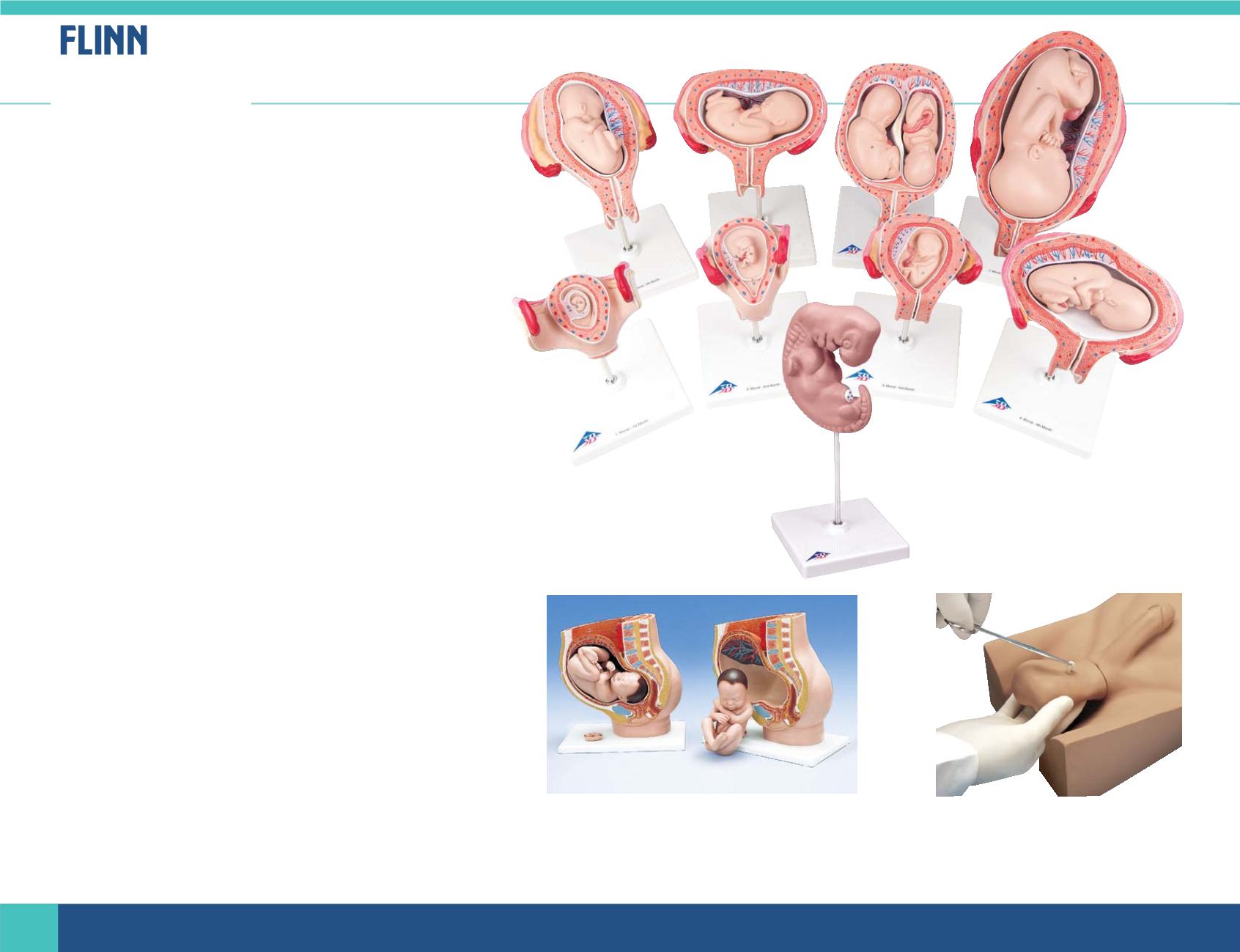 Your Safer Source for Science
Since 1977
SCIENTIFIC
8
NURSING & HEALTHCARE
I
FLINN SCIENTIFIC
Nursing and CTE
3B Scientific
®
No Scalpel Vasectomy (NSV) Model
A compact no scalpel vasectomy simulator developed to assist in
learning a new method of vas occlusion. To provide realism, the
leg stumps are designed to "get in the way" of the student as the
procedure is mastered. Includes two removable scrotal skins and
two testicles, two long vas assemblies that can be advanced as
needed for NSV exercises and instructions for use.
FB2210
I
$310.95
3B Scientific
®
Pregnancy Series
Embark on a journey from embryo to fetus! Popular series
includes models to show the complete stages of pregnancy
development. All models are mounted separately on a stand.
Stands and uterus are separate and removable. In addition,
the largest fetuses can be removed from their uterus.
FB2262
I
8 Models
I
$925.95
FB2263
I
9 Models
I
$1075.95
FB2264
I
5 Models
I
$665.95
No Scalpel Vasectomy (NSV) Model
FB2210
Pregnancy Series,
9-Model Set
FB2263
3B Scientific
®
Pregnancy Pelvis, Three-Part
Representation of a midsection through the female pelvis at 40
weeks pregnant with removable fetus. Study the normal position
of child before birth as well as the human reproductive urinary
systems. Uterus with embryo in third month of pregnancy is
mounted on base for added detail. The realistic, high-quality
female pelvis includes genital organs and other anatomical
details. Great for educating about the stages of pregnancy.
15" L
×
10" W
×
15¾" H.
FB2265
I
3-Part
I
$585.95
Pregnancy Pelvis, Three-Part
FB2265