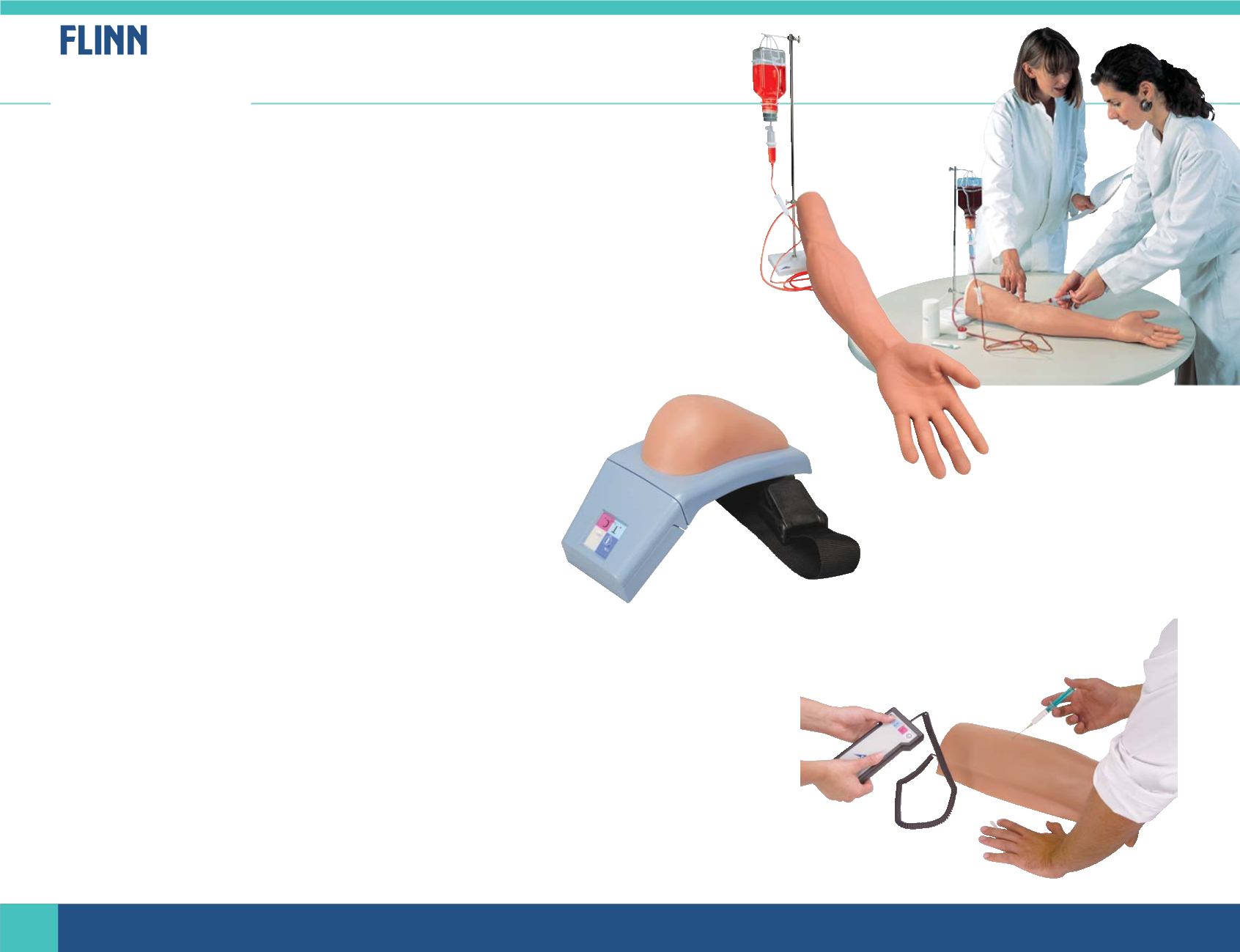 Your Safer Source for Science
Since 1977
SCIENTIFIC
6
NURSING & HEALTHCARE
I
FLINN SCIENTIFIC
3B Scientific
®
I.V. Injection Arm
This injection arm, made of 3B SKINlike
™
silicone, is unique in quality and
design and allows realistic training to teach competence to medical students.
Suitable for group instruction because of its high-quality, stain-resistant and
easy-to-clean soft material.
Ideal for practicing intravenous injections, correct puncture of peripheral
veins for blood sampling (basilic vein, cephalic vein, median cubital vein,
dorsal venous rete of hand) and the positioning of a butterfly catheter.
Delivered with stand, artificial blood, two replacement tubing systems,
plastic bottle, syringe and deluxe storage carton.
FB2282
I
$650.95
Nursing and CTE
Intramuscular Injection
Simulator—Upper Leg
FB2285
3B Scientific
®
Intramuscular Injection Simulators
Intramuscular injection can be practiced realistically without a real patient
using this high-quality simulator. Contains all important anatomical palpable
landmarks. The included lifelike silicone skin is extremely durable and can
be quickly and easily exchanged when necessary.
The intramuscular simulator is supplied with 2 AA batteries, detailed instruc-
tion manual, replacement skin, 5-mL injection syringe and 21G/0.8 injection
needle.
FB2284
I
Upper Arm
I
$1475.95
FB2285
I
Upper Leg
I
$1871.95
Intramuscular Injection
Simulator—Upper Arm
FB2284
I.V. Injection Arm
FB2282
See flinnsci.com for skeletons
and anatomy models!