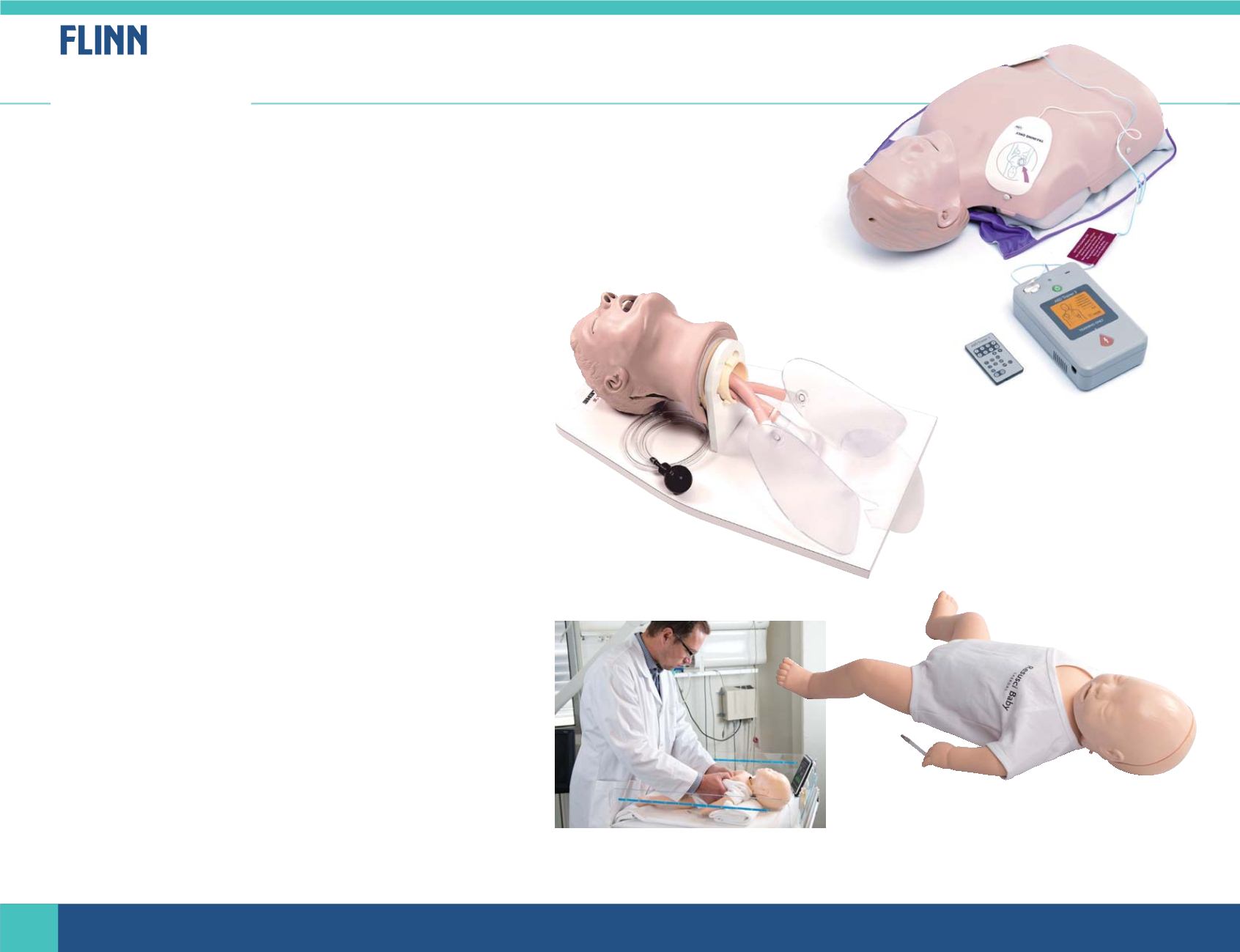 Your Safer Source for Science
Since 1977
SCIENTIFIC
2
NURSING & HEALTHCARE
I
FLINN SCIENTIFIC
3B Scientific
®
Little Anne
®
AED Training System
Little Anne
®
automated external defibrillator (AED) training system offers
all the essential features necessary for learning adult CPR, defibrillation
and defibrillator pad placement, including realistic anatomical landmarks.
Natural obstruction of the airway allows students to learn the important
technique of opening the airway as in a real-life situation. Teaches students
how to effectively administer air to the patient and practice abdominal
thrusts. Chest rise is seen with correct ventilations. Oral and nasal passages
allow realistic nose pinch required for mouth-to-mouth ventilation.
FB2219
I
$650.95
3B Scientific
®
Airway Management Trainer with Stand
Life/form
®
airway management trainer simulates non-anesthetized patients
for practicing intubation, ventilation and suction techniques. Realistic anat-
omy and landmarks include teeth, tongue, oral and nasal pharynx, larynx,
epiglottis, arytenoids, false cords, true vocal cords, trachea, lungs, esoph-
agus and stomach. The trainer allows you to practice oral, digital and
nasal intubation, suction techniques and proper cuff inflation. Features
long-lasting, one-piece construction and bifurcated lungs.
FB2220
I
$940.95
Airway Management Trainer
with Stand
FB2220
Nursing and CTE
3B Scientific
®
Resusci
®
Baby QCPR
®
Full Body with Suitcase
Resusci
®
Baby QCPR
®
is a training model for carrying out CPR on small
children. Measurement, evaluation and qualitative feedback are the key to
developing the trainee's skills. Resusci Baby QCPR provides thorough and
realistic CPR training. Optimized measurement of compressions and respi-
ration provide accurate guidance for the trainees. Due to detailed feedback
and debriefing functions, trainees can learn resuscitation techniques more
quickly and considerably improve their CPR skills.
FB2217
I
$1249.95
Resusci
®
Baby QCPR
®
Full Body with Suitcase
FB2217
Little Anne
®
AED Training
System
FB2219