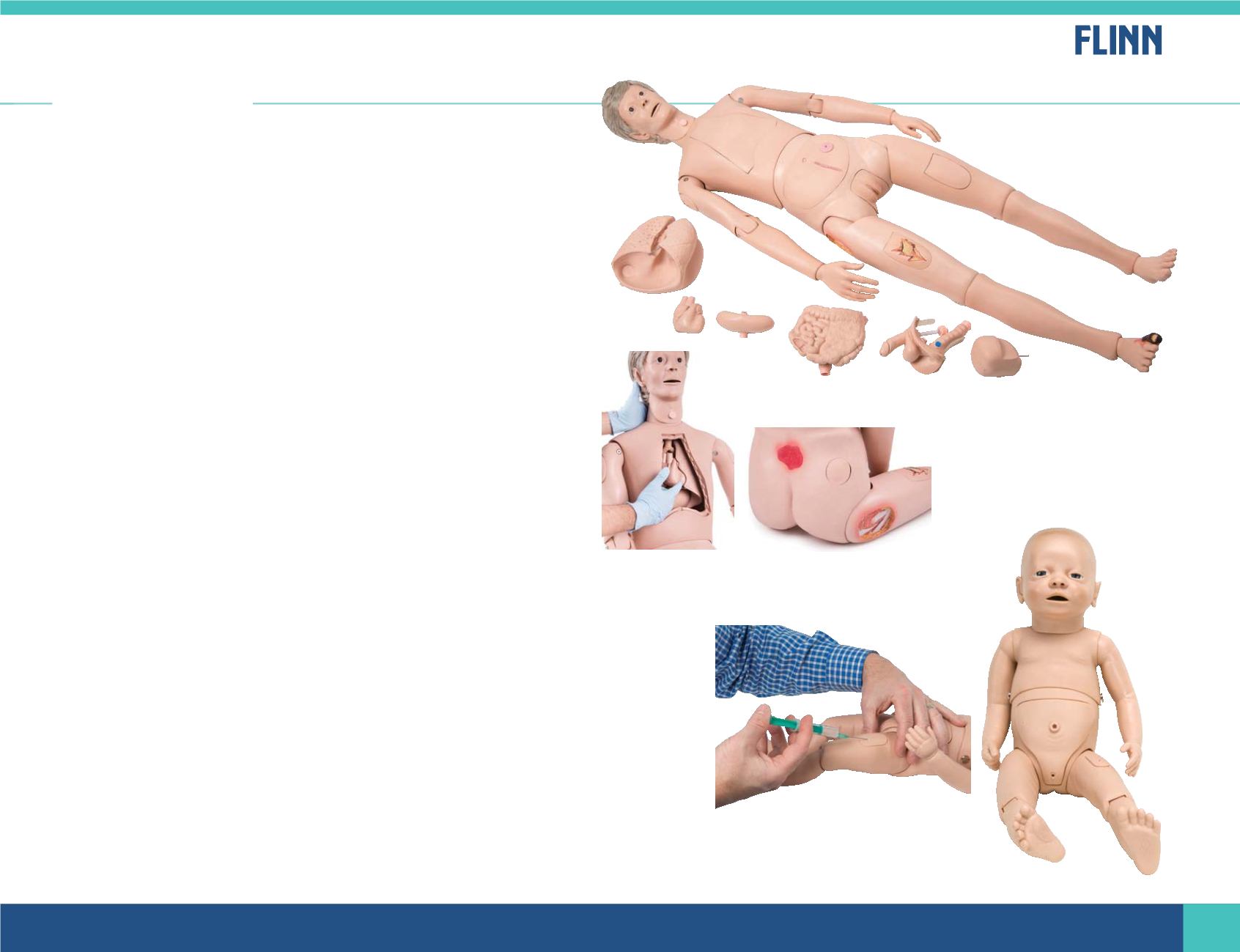 FLINN SCIENTIFIC
I
NURSING & HEALTHCARE
1-800-452-1261 FLINNSCI.COM
SCIENTIFIC
3
Nursing and CTE
3B Scientific
®
Patient Care Manikin
Build and evaluate patient care skills! The 3B Scientific
®
Patient Care
Manikin was developed for scenario-based healthcare training for patient
care and advanced nursing skills. The patient care manikin simulates an
adult, life-size patient with interchangeable genitals. It can be positioned
like a real patient with natural movement of the arms, legs and joints. The
care manikin can also sit upright for treatments. It is made of durable,
water-resistant plastics for longevity.
Optional upgrade kit easily converts the Basic Patient Care Manikin
(Catalog No. FB2269) to a PRO Patient Care Manikin (Catalog No. FB2268).
The upgrade kit includes lung, bladder, stomach, heart, intestine and
genitals (female and male).
FB2268
I
Patient Care Manikin PRO
I
$4150.44
FB2269
I
Basic Patient Care Manikin
I
$2995.95
FB2270
I
Upgrade Kit for Basic Patient Care Manikin
I
$815.95
3B Scientific
®
Nurse Training Baby, New Born
This advanced and incredibly realistic model with male and female features
includes: internal organs (heart, lung, intestine system, stomach and blad-
der), removable belly covering, interchangeable genital organs, soft ears,
fully movable head, arms and legs. It allows trainees to practice both basic
and medical infant care, such as tracheotomy care, male and female catheter-
ization, insertion of a tube into mouth or nose, enema insertion, palpitation
of fontanels and femoral, gluteal, intramuscular and subcutaneous injections.
Included accessories are a syringe, suction catheter, feeding tube, urinary
catheter, urine collection bag, catheter lubricant and carrying bag.
FB2281
I
$955.95
Nurse Training Baby, New Born
FB2281
Patient Care Manikin PRO
FB2268