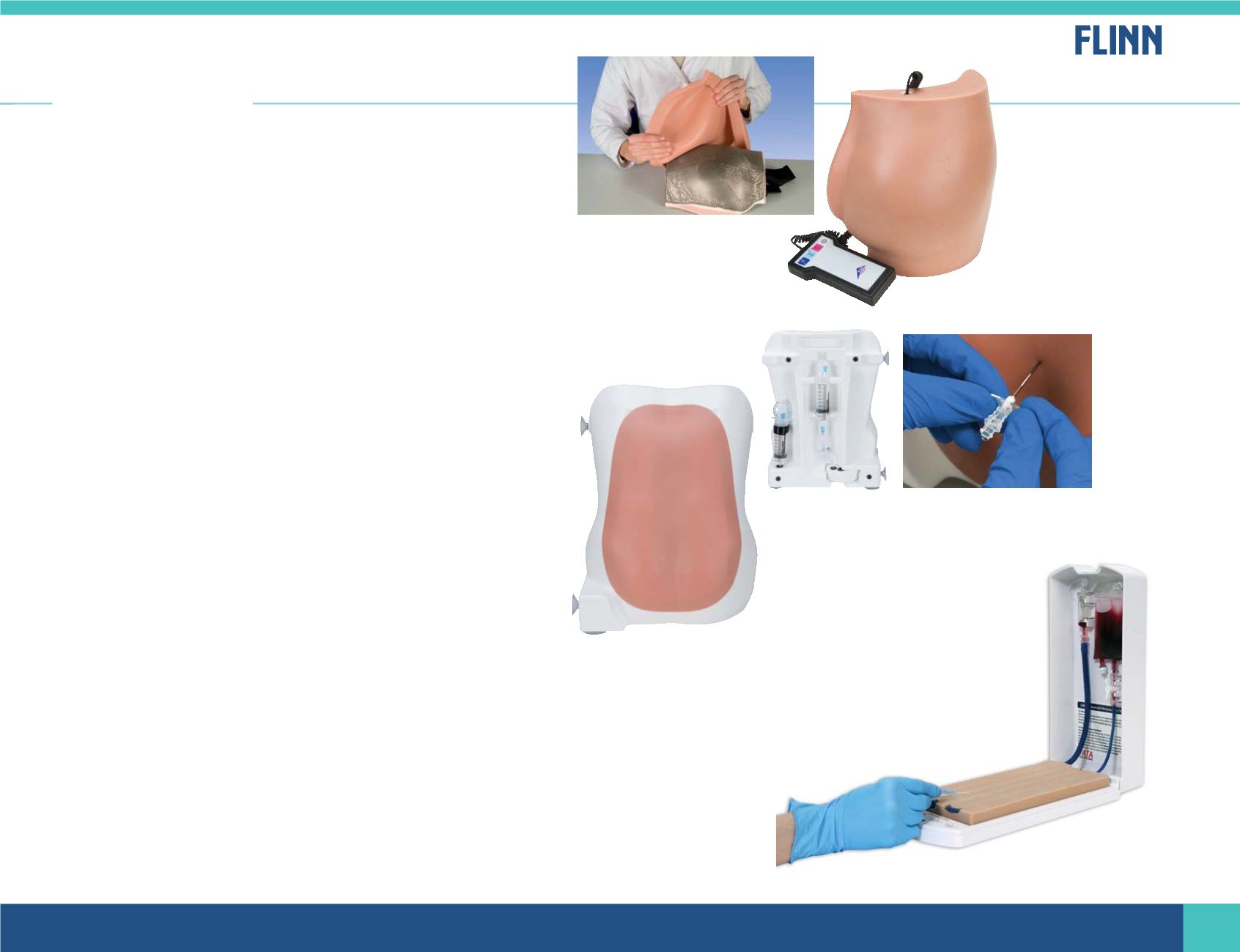 FLINN SCIENTIFIC
I
NURSING & HEALTHCARE
1-800-452-1261 FLINNSCI.COM
SCIENTIFIC
7
Nursing and CTE
3B Scientific
®
Buttock Injection Simulator
This high-quality simulator is a lifelike model of a right buttock with all
important anatomical landmarks for intramuscular (I.M.) injections: iliac
crest, anterior superior iliac spine and greater trochanter. The integrated
fine electronics provide feedback when training the intramuscular injec-
tion technique; correctly administered injections will produce audiovisual
feedback. Additional training and control modes are available for checking
results either immediately or upon completion of a training session. This
anatomically realistic injection simulator is supplied with a 21G/0.8 injection
needle and a 5-mL syringe.
FB2286
I
$1715.95
Buttock Injection
Simulator
FB2286
VATA
®
Advanced Four-Vein Venipuncture
Training Aid
™
—Dermalike II
™
, Latex Free
Your patients don't have one size of veins, so why teach and learn on a
"one size vein fits all" IV arm? This model allows you to improve compe-
tency and technique by progressing from easier, larger veins to the more
difficult, smaller and deeper veins. This easy to set up and store, light-
weight, compact, non-staining and cost-effective training model is a new
alternative to bulky, heavier and more expensive models. Many hospitals
and home health agencies use this model to ensure that the competency
of all staff is assessed, maintained, demonstrated and improved continually.
FB2216
I
$406.35
Advanced Four-Vein
Venipuncture Training Aid
™
—
Dermalike II
™
, Latex Free
FB2216
3B Scientific
®
Epidural and Spinal Injection Trainer
This epidural and spinal injection trainer is impressive due to its extremely
realistic haptic feedback and the use of high-quality, durable materials.
The light, compact structure can be used in a wide variety of ways. The
device has low operating costs and is intuitive to use, ensuring lasting,
high-level performance.
FB2287
I
$1698.95
Epidural and Spinal Injection Trainer
FB2287