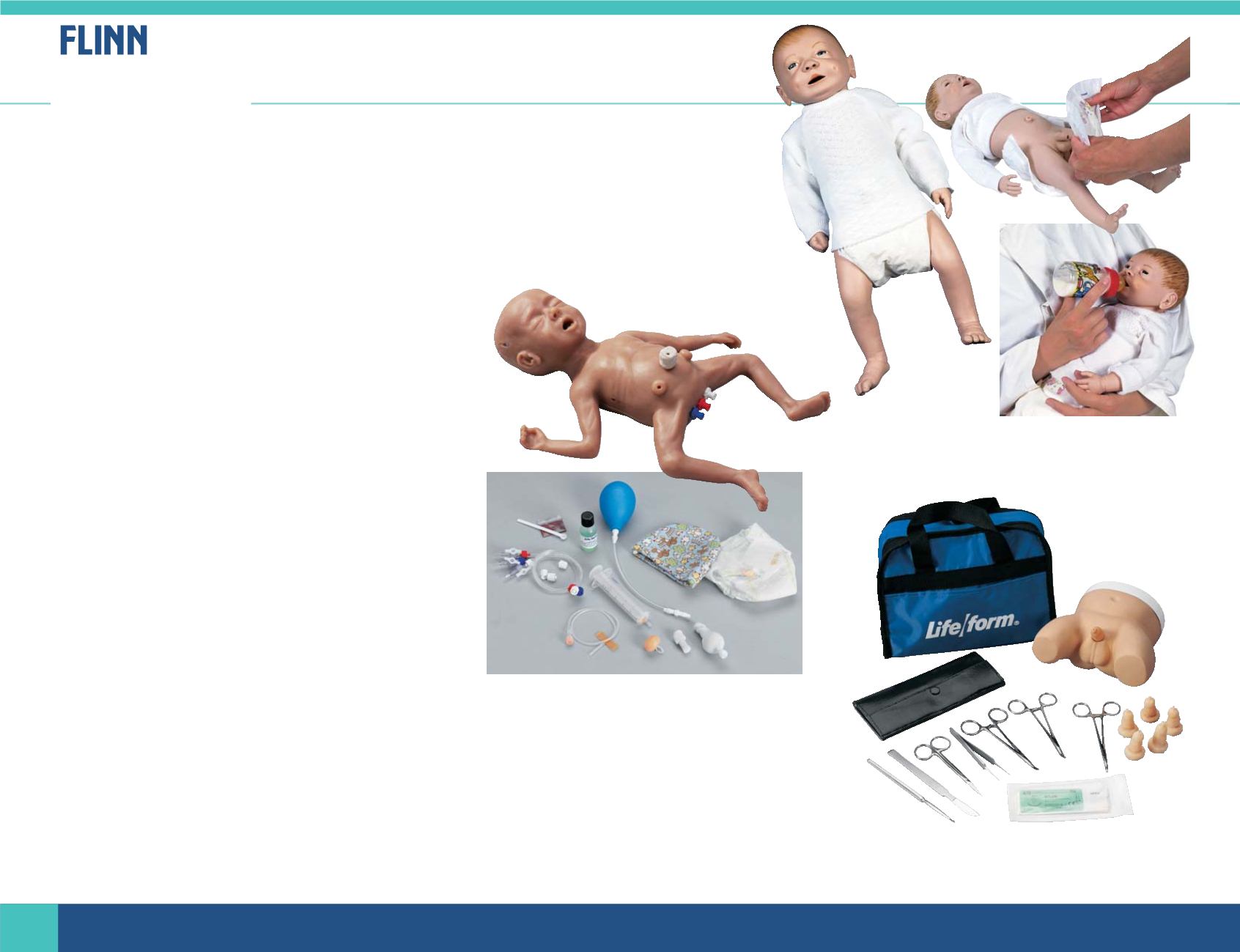 Your Safer Source for Science
Since 1977
SCIENTIFIC
4
NURSING & HEALTHCARE
I
FLINN SCIENTIFIC
3B Scientific
®
Baby Care Model, Male
This baby boy will never lose his patience! Baby care trainees can
perform bathing, changing, dressing and feeding simulation until
these techniques are mastered. Very useful for pre-birth courses!
FB2212
I
$495.95
3B Scientific
®
Life/form
®
Micro-Preemie Simulator
Nearly one out of every eight newborns arrives prematurely. This
25-week ELBW (Extremely Low Birth Weight) neonate is the smallest
and most realistic pre-term infant available. Invaluable for nursing
students in care and handling techniques for babies that have had
multiple medical interventions; the perfect team training aid for
multiples or other high-risk delivery and transport scenarios.
FB2213
I
$367.95
Life/form
®
Micro-Preemie Simulator
FB2213
Baby Care Model, Male
FB2212
3B Scientific
®
Infant Circumcision Training Kit
Infant circumcision training kit includes the foreskin, glans penis,
frenulum, meatus and coronal groove. These trainers are made
with soft, lifelike material that is pliable, delicate and realistic to the
touch. Medical students and other practitioners can learn, practice
and improve realistic, hands-on skills for this delicate procedure.
Practice simulating dorsal block injection, separating the inner
lining of the foreskin (preputial epithelium) from its attachment to
the glans, surgical removal of the foreskin and suturing techniques.
Infant circumcision training kit has been developed with the assis-
tance from one of the top medical schools in Wisconsin, USA, as
well as medical professionals in South Africa and Indonesia.
FB2227
I
$305.95
Infant Circumcision
Training Kit
FB2227
Nursing and CTE