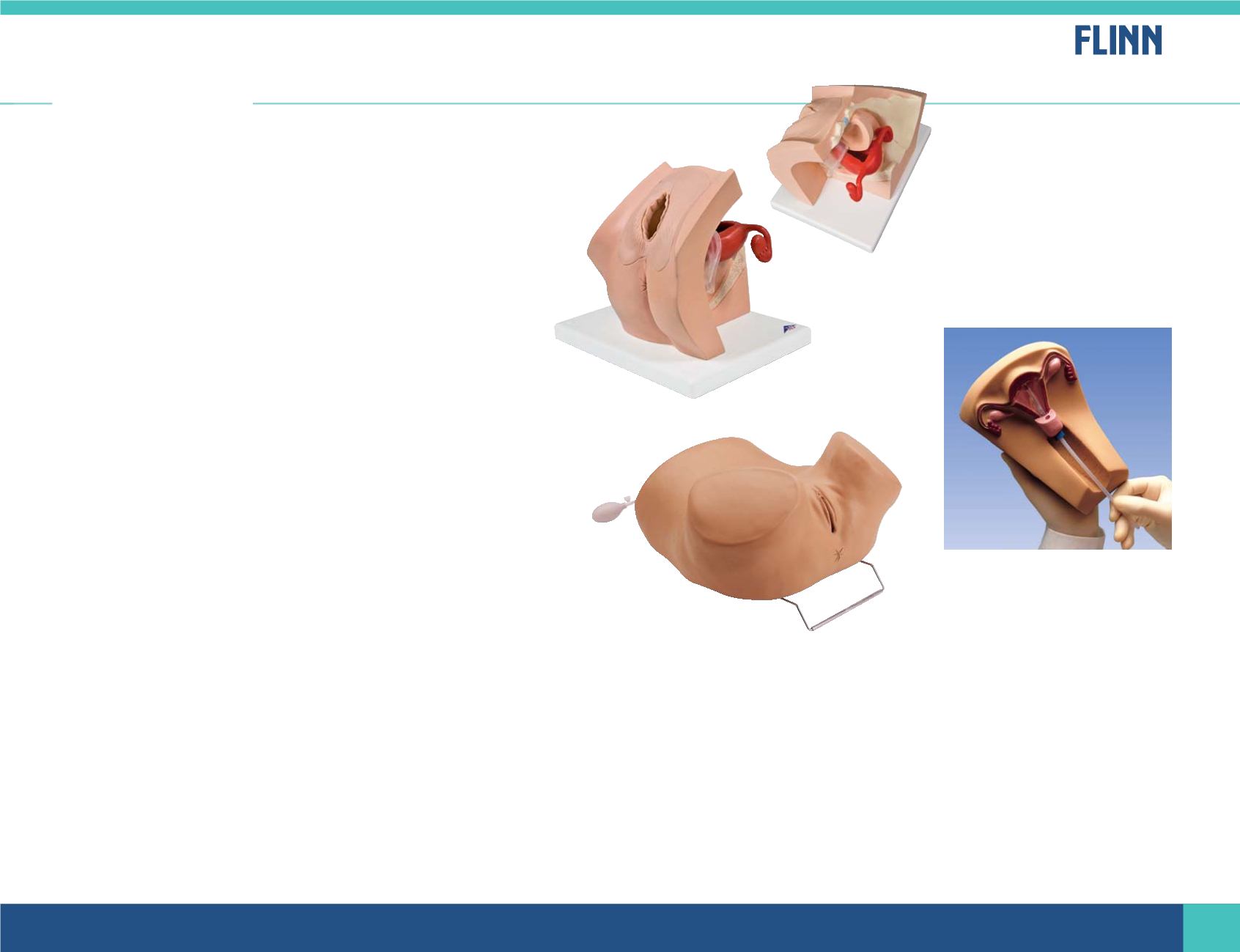 FLINN SCIENTIFIC
I
NURSING & HEALTHCARE
1-800-452-1261 FLINNSCI.COM
SCIENTIFIC
9
Nursing and CTE
IUD Trainer
FB2229
3B Scientific
®
I.U.D. Trainer
Anatomically accurate model represents a section of the uterus, ovaries and
fimbrae. The uterus is covered by a clear plastic window to allow easy visu-
alization of insertion and placement of the intrauterine device (IUD).
FB2229
I
$129.95
3B Scientific
®
Model for Gynecological Patient Education
This unique gynecological training model is ideal for demonstration
purposes and for training realistic insertions of female barrier contracep-
tive devices, which are placed in the vaginal/cervical area. The second
important function of this simulator is that it is possible to insert the vari-
ous types of pessaries, such as ring, bowl or cube, which are used in the
event of a prolapse or incontinence. It is also possible to demonstrate
how to introduce an IUD (coil) and show where it should be located. The
cervical cap can be detected with ultrasound, and it is also possible to
practice intrauterine insemination (IUI).
FB2283
I
$395.95
Model for Gynecological
Patient Education
FB2283
3B Scientific
®
Gynecological Simulator
Gynecological simulator is a state-of-the-art patient care
simulator for training in vaginal examination, bi-manual pelvic
examination, IUD insertion techniques and viewing cervi-
cal normality vs. abnormalities. Includes seven normal and
abnormal uteri, one normal uterus with six detachable cervical
replicas, two uteri for IUD introduction, two spare internal
tanks, stomach cover, lubricant and carrying bag.
FB2222
I
$792.95
Gynecological Simulator
FB2222
See flinnsci.com for skeletons
and anatomy models!