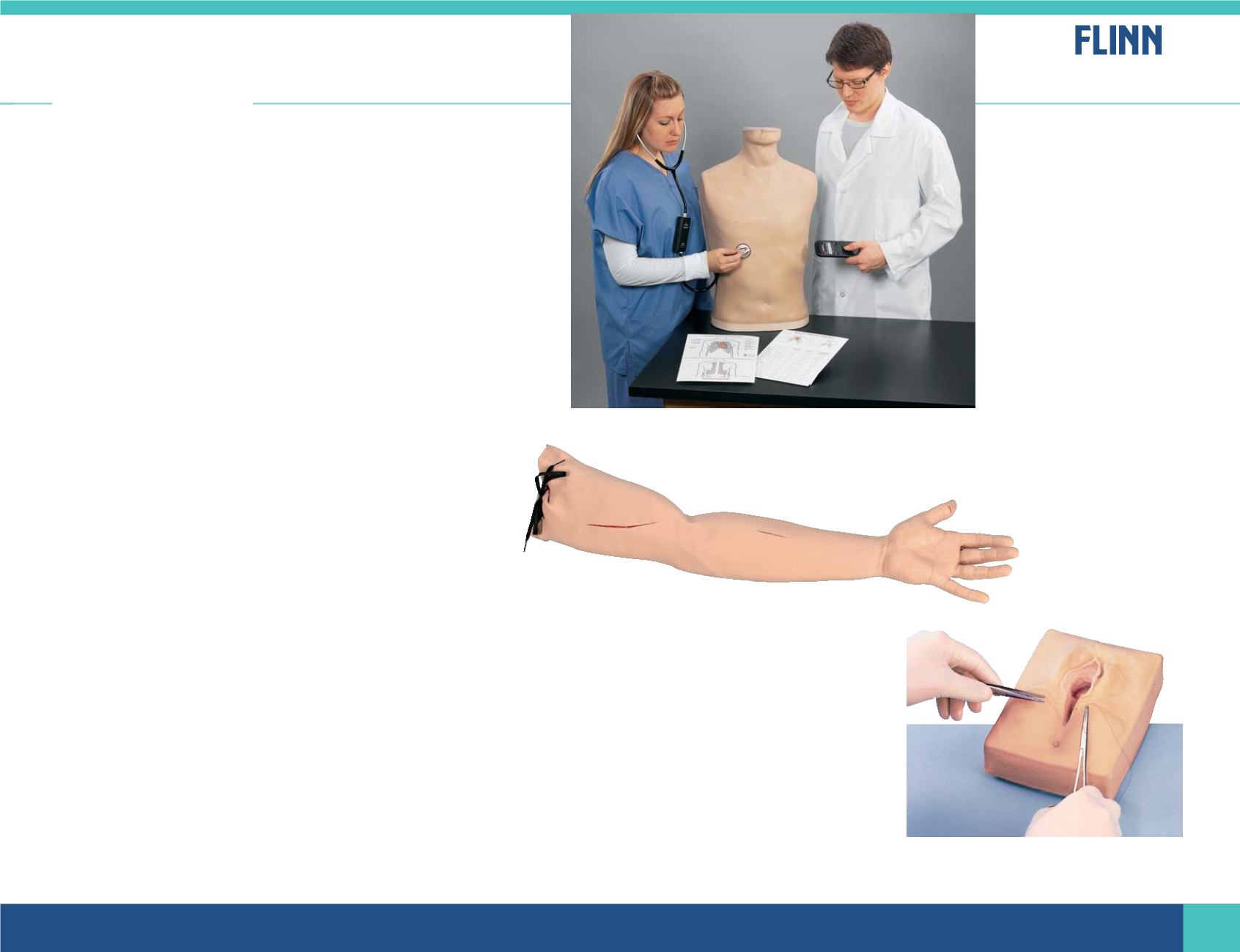 FLINN SCIENTIFIC
I
NURSING & HEALTHCARE
1-800-452-1261 FLINNSCI.COM
SCIENTIFIC
5
Nursing and CTE
3B Scientific
®
Suture Practice Arm
This arm is made of a soft vinyl skin over a foam allowing hundreds
of suture practice sessions. The arm comes with three wounds as
well as several cuts that can be placed all over the arm, hand and
fingers and sutured several times. The soft and pliable material
guarantees the sutures will not pull out when tightened. Includes
a starter suturing kit with needle and thread.
FB2215
I
$260.95
3B Scientific
®
Auscultation Trainer and SmartScope
™
Just like a real patient! A major breakthrough in auscultation training.
The student must palpate to identify correct auscultation locations
and will hear different heart and lung sounds as the Smartscope
™
is moved to different locations on the manikin. A diagnosis of the
condition selected by the instructor can be made by comparing the
variations in sounds occurring at different sites.
FB2214
I
$4125.95
Auscultation Trainer and
SmartScope
™
FB2214
3B Scientific
®
Life/form
®
Midline Episiotomy
Suturing Simulator
Life/form
®
suturing simulator provides a realistic way for students to
learn good surgical techniques and a variety of repair experiences
without the constraint of time and concern for safety. The simulator
can be used in a learning lab with an instructor or individually in a
clinical setting just prior to a patient experience. It is also useful as a
homework teaching aid that can be signed out at night and returned
the next day. In addition to being portable, the lifelike texture allows
the learner to develop a "feel" for instrument handling, tension
on suture and the advantages of one method of tying knots over
another. The simulator comes with an instruction booklet.
FB2228
I
$249.95
Life/form
®
Midline Episiotomy Suturing Simulator
FB2228
Suture Practice Arm
FB2215